About the St. Croix Landmarks Society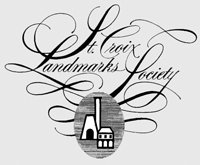 Our Mission is to advance the understanding and appreciation of the unique historical and cultural legacy of St. Croix through preservation, research and education.
Through its museums and an array of educational programs, the Landmarks Society continues to cultivate appreciation of St. Croix's rich history and enduring legacy.
In 2008, the Society was awarded the National Trust for Historic Preservation's Presidential Award, acknowledging "60 years of diligence in protecting, preserving and celebrating the irreplaceable heritage of the island of St. Croix."
History
Fifty years ago, the St. Croix Landmarks Society was born from the catalyst of concern applied to time and economic potential. Enthusiasm and hard work reclaimed the heritage and history of the people of this island. It is hard to realize today that in 1948, we did not have a Planning Board or Zoning Laws; that there was no such subject as Black Studies. How few of us remember the limited powers of the elected members of the Councils? All these things and more were changed by the actions of the people who started the Society we have today.
The beginning of the St. Croix Landmarks Society has roots from two directions. The first root was begun by local residents who had been collecting pre-Columbian artifacts for years. Residents including George Seaman Sr., Erik Lawaetz, Folmer Andersen,and Annie de Chabert had been picking up Indian artifacts casually or through dedicated digs for decades, sometimes displaying them in parlors, more often just put away. By early 1948, residents had decided they wanted a museum. Working with members of the Municipal Council, they set up a display on the first floor at what was Library building in Christiansted.
The other root grew from dismay over the run-down conditions in St. Croix viewed anew by returning service men and women and immigrating Americans, many of whom had been trained at Benedict Field, a U. S. Air Force base. They brought enthusiasm and effort together and made a tremendous change in our society, the scope of which can hardly be imagined today. It is a good story of cause and cooperation.
A great number of fighter pilots trained at Benedict Field, located on Estates Manning's Bay, Negro Bay and Envy. Most of the estates in that area were no longer in agricultural production, and many were in ruins. Betty Skeoch remembers how distressed she and husband R. Norman Skeoch were when the 27th Army Corps of Engineers had to raze all the undamaged buildings at Betty's Hope which lay within a three mile radius of the air field. She recalled that the greathouse had a splendid room with an incredible stone work arched ceiling: irreplaceable, and it all was doomed. Norman's father had been the manager there. "We couldn't save any of it," she recalls. Many of the servicemen and women who mustered through Benedict Field were seeing the tropics for the first time and fell in love with them. After World War II, a slow trickle of immigrants from the United States began that became a flood by the 1960's. Native servicemen and women, sickened by the destruction of war, came home aware of the importance and esteem people abroad had for preserving their historic sites.
The first continentals settled in Christiansted, buying old townhouses and restoring them. These people generally came from American cities that conserved and appreciated old buildings, and they were shocked by the shabby decay evident in town. There were just a few native families left living in town by the 1940's, but the newcomers' concerns were matched by the interest of some powerful people like Dr. Canegata, Attorney Leader, Mrs. Brodhurst and Pearl Larsen. Soon the nucleus of a restoration drive was born.
As the idea of spiffing up the town grew in discussions at Donald Down's house on Hill Street, more enthusiasts were drawn in from residents and government officials. The oldest surviving member of the founding group was Betty Skeoch (died 2008) of Castle Coakley. Betty remembers that the first meetings were held on the narrow street-side gallery of the Burnett's house. When more people got involved, the meetings moved to the side patio.
The group agreed to incorporate as The St. Croix Landmarks League, a non-profit, non-political corporation. Bylaws were passed on March 9, 1948, naming George H. Burnett as Chairman, R. H. Amphlett Leader, Esquire, as Vice Chairman, Miss Irene Lowe (later married to Malcolm K. Armstrong) as Secretary-Treasurer, Dr. David C. Canegata, Norman S. Olson, R. Norman Skeoch, and Ove E. Olsen served as members of the Executive Committee. Their stated purpose was "to work for the preservation and confirmation of the architectural beauty, historical value and tradition of St. Croix." The first member assessment (or dues) was set at $3.00 per year.
A myriad of projects were adopted, some of whose stories are covered within these pages. For the past 50 years, masses of energy have been spent on creating the territory's first museum, restoring the greathouse and outbuildings at Whim for educational purposes, then later collecting machinery to demonstrate the process by which so many of our ancestors toiled. We expanded our educational work, developed our files into a major resource library and undertook ecological protection of lands.
One by one, each landmark action seemed easy to do, yet the cumulative list of activities and successes over the past 50 years is simply breathtaking. I believe it was done by our parents, our neighbors and yes, even us, by accepting the truism that today is the only day one has to take action. By taking action on their concerns, our founders preserved the legacy of our fore bearers, they gave the gift of yesterday to our generation. We shall pass it on.